9 Best Free Video Compressors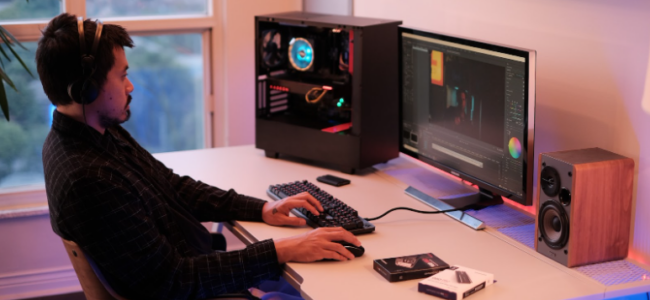 9 Best Free Video Compressors
Videos come in numerous formats, various sizes and with different levels of compression. However, you can use the best video compressors to:
Reduce file size

Improve compressed quality

Better serve your audience
We're going to list the leading nine video compressor software picks that you can use today for free to enhance your videos.
Table of Contents
9 Best Free Video Compressors
Table of Contents
9 Top Free Video Compression Software Picks
1. Wave.video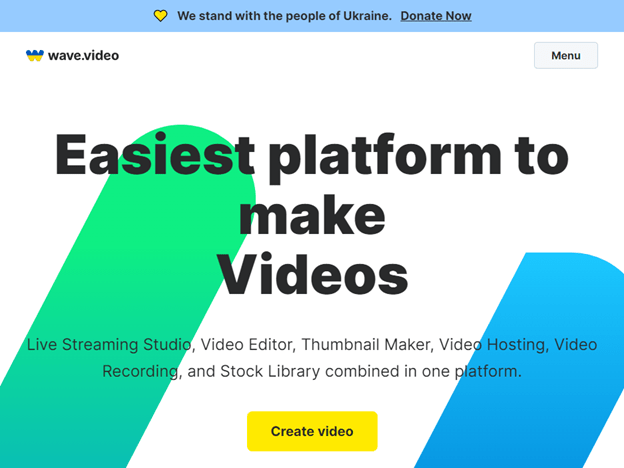 Wave.video is the top video compressor on the market with support for numerous file formats, including: mp4, webm, wmv, avi, mkv, mov, m4v, m2ts, mts, ts and tsv. You can convert any of these video formats to the leading formats online, such as:
Users can begin using the platform in minutes thanks to the fast setup process, and videos can be compressed in 360p, 480p, 720p and 1080p resolutions.
If you've never compressed videos before or don't want to spend time adjusting the compression levels, you'll love this platform's simplicity. Simply choose from one of the two compression options:
Maximum: A larger file size that maintains image and audio quality.
Optimized: Videos still have crisp imagery, but the quality is slightly lower and smaller in size.
Users can also resize their videos for use on Instagram, YouTube or TikTok. With a full-fledged video editor and dozens of features, you'll create professional videos with the best compression in no time with Wave.video.
Pros
Runs on the cloud
Includes a thumbnail maker for your videos
Advanced video editor built-in
Verdict
Wave.video is our top pick for the best free video compressor because it includes a full editor and advanced compression options. Recognized by G2, Capterra, GetApp and others in the industry, the platform can help you take your video compression to the next level.
You can even use Wave.video on any device if you have an Internet connection.
2. Freemake Video Converter

Freemake Video Converter is a good, free video compressor for PC users. You'll have the option to export videos directly to YouTube, and the interface is one of the easiest to use. The platform allows you to easily convert to:
MP3
MP4
AVI
WMV
500+ formats
You can also cut, join and rotate clips as well as convert full 4K videos with the converter.
Pros
Completely free without ads
Easy-to-use interface
100+ million users
Cons
Only available for Windows
Verdict
Freemake Video Converter is a strong competitor for the best video compressor, but it lacks the advanced editing options and cloud-based hosting that Wave.video offers. If you want compression software that works well on a PC and offers 500+ video conversion formats, this is a great option for you.
3. Handbrake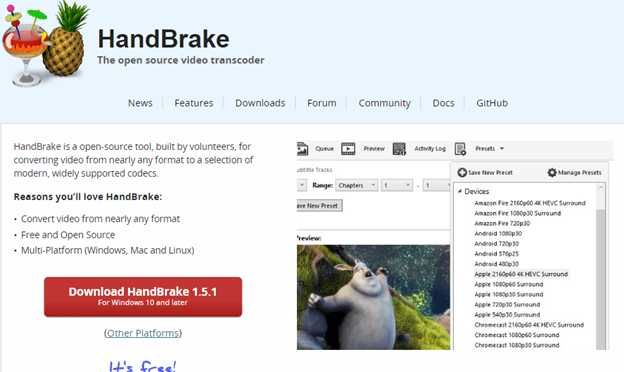 Handbrake is an open-source video transcoder, and it's meant for anyone who uses:
Built-in device presets, file containers, video encoder and other options will allow you to compress your videos with very little quality loss.
Pros
Batch conversions available
Supports subtitles
Offers numerous filter options
Cons
No mobile support
An overwhelming number of features
Verdict
Handbrake is an amazing software, perfect for PC, Mac and Linux users. It's fast and easy to convert video into other formats and compress them. However, there are an overwhelming amount of options and features that can confuse first-time users.
4. Movavi Video Converter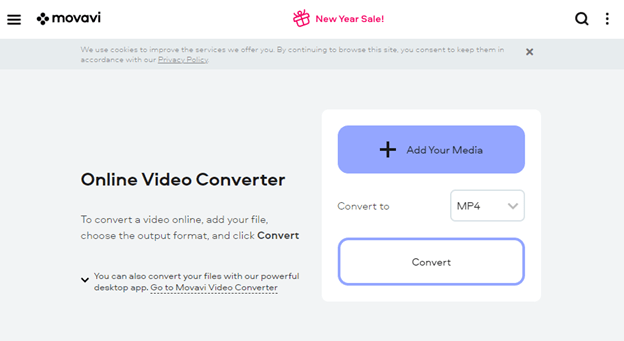 Movavi is one of the best video converters for desktop computers, and it has a robust compression algorithm that allows for fast, quality conversions. The platform's compression speeds are one of the best in the industry, and you do have the option to convert files to 180+ formats.
The interface is user-friendly and easy to navigate, and users on Windows and Mac can run the software.
Pros
High-speed compression
Compression options for 180+ formats
Batch convert videos
Cons
Only "free" for 7 days, and then you have to pay for it
Watermarks on videos during the free trial
Verdict
Movavi is a great option if you need to compress a handful of videos and don't need to use it long-term. However, if you need to use it for more than seven days, you'll need to pay a premium, which pushes it lower on our list.
5. VLC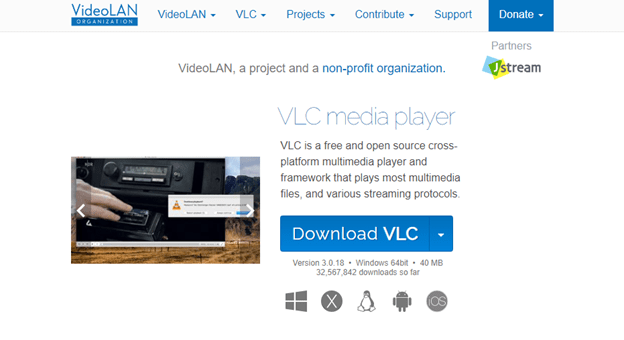 VLC is a popular, free and open-source multimedia player that's cross-platform. But this tool is more than just a media player. It also comes with converting and editing features.
VLC works on virtually every device, including Windows, Mac, Linux, iOS and Android.
The platform supports a vast array of video formats and also acts as a media player and encoder.
Pros
Supports a wide range of video formats
Platform is easy to use
Works on virtually all devices
Cons
The library isn't easy to navigate
Updates are limited
Verdict
VLC is a great option if you already have experience with video compression and need a simple, no-frills tool. Because this platform is open-source, updates are infrequent and little-to-no support is offered.
6. FFmpeg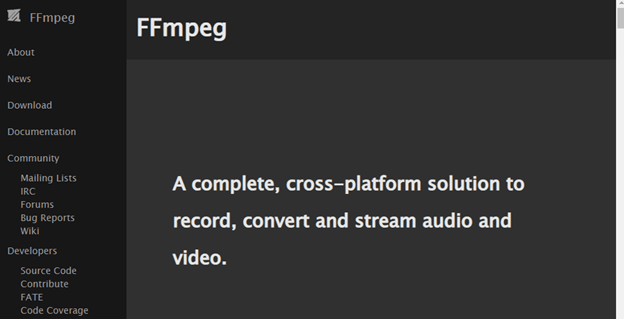 FFmpeg is a free, cross-platform converter, recorder and streamer for video and audio. It works on Windows, Mac and Linux devices, and it's compatible with the most popular video formats.
Offering streaming support is a nice perk of using this compressor. It also has a convenient built-in editor for merging, cropping and more.
Pros
User-friendly interface
Free and open-source
Supports the most popular video formats
Works on Windows, Linux and Mac
Cons
Steep learning curve
Conversion can cause quality loss
Verdict
While FFmpeg has a user-friendly interface, there is a steep learning curve for beginners. It's a tool that's best for more experienced users and people with knowledge of video conversion. That said, if you do have this experience, you'll find that this tool offers a wealth of options for your compression, converting and even streaming needs.
7. Inverse.AI Video Converter

Inverse.AI offers a number of free products, including a video converter. Their converter is only available for Android devices, but it supports a number of video formats, including MP4, MPEG, MKV, MOV, MPG, WMV, MTS, FLV, VOB and more.
Inverse.AI says it will compress your videos while keeping the original quality. You can also:
Compress videos in batches
Choose different codecs
Choose your process speed
Compare compressed and uncompressed videos
More
Inverse.AI works quickly to compress your videos, but it can also run in the background while you continue with whatever task you are doing.
Pros
Batch processing
Runs in the background for minimal disruption
Supports the most popular video formats
Cons
Only works on Android devices
No additional editing features
Verdict
Inverse.AI is a convenient and easy-to-use tool that can convert a wide range of video formats. In addition, batch processing allows you to process several videos at once. However, it will only work with Android devices and doesn't offer additional editing features.
8. VidCompact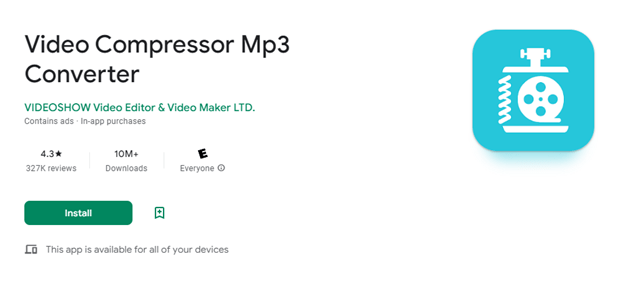 VidCompact is a free video compressor app that only works on Android devices. The app supports a number of popular video formats, including FLV, MP4, MKV and MOV.
With extra features like video and audio conversion and lossless compression, VidCompact stands out in the crowd. You can even trim, cut, crop and speed up or slow down your videos.
Pros
Additional editing and conversion features
Acts as an all-in-one tool
Supports the most popular video formats
Cons
Only works on Android devices
Only free for a limited time
Verdict
VidCompact is a great all-in-one tool that helps you convert, compress and edit your videos. But it's only free during the free trial period, and it only works on Android devices.
This app may be a great option for users who do most of their video creation on their phones or other mobile Android devices. However, you will need to be prepared to pay for the app once the free trial is up.
9. Clideo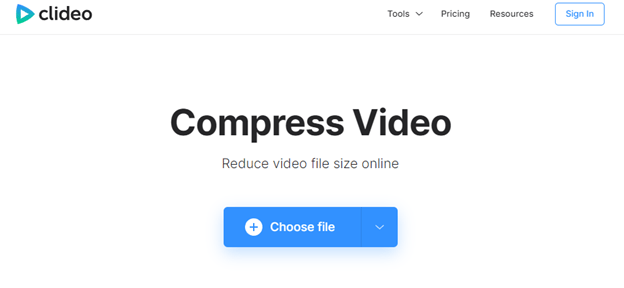 Clideo is an online tool that compresses video quickly and securely using the cloud. Because it's an online platform, it works with most browsers.
While quick and effective, Clideo is a no-frills tool that doesn't have many additional features. One advantage it offers is that you can upload files from your cloud storage and preview them before you start the compression process.
Encryption and a user-friendly interface make Clideo a great option for users who are new to video compression and concerned about security.
Pros
Easy to use
Web-based (no software to download or install)
Can be used on any device
Works with the most popular video formats
Quick compression speeds
Cons
A no-frills solution (no extra features like converting or editing)
Verdict
Clideo is a great option for anyone who just needs a compression tool. It lacks some of the additional features that other free compressors offer, but compressions are quick and encrypted. Because the tool is web-based, it can be used anytime, anywhere and from any device, making it a great option for anyone on the go.
Conclusion
These are the best free video compression software options available. They're easy to use, deliver quality results and often have online tools that make it easy to start the compression process.