18 Best Instagram Filters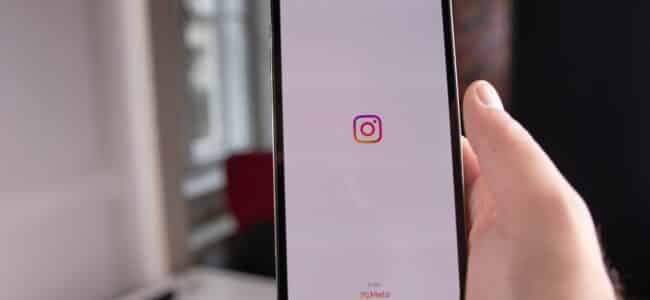 The best Instagram filters can completely transform your photos and videos. Whether it's boosting color saturation, adding drama with contrast or creating a retro vibe, filters give you more freedom to explore your creativity. We're going to share the best filters for your Stories and how you can start creating your own filters.
Table of Contents
Using Wave.video to Create Your Own Instagram Filters
Conclusion
18 Best Instagram Filters
Filters can make your Stories unforgettable by adding drama, making your content moody or enhancing awe-inspiring landscapes.
There are many built-in filters on Instagram and third-party options from creators, but all of them have beautiful effects. These are the best Instagram Story filters to take your Instagram content to the next level.
1. Clarendon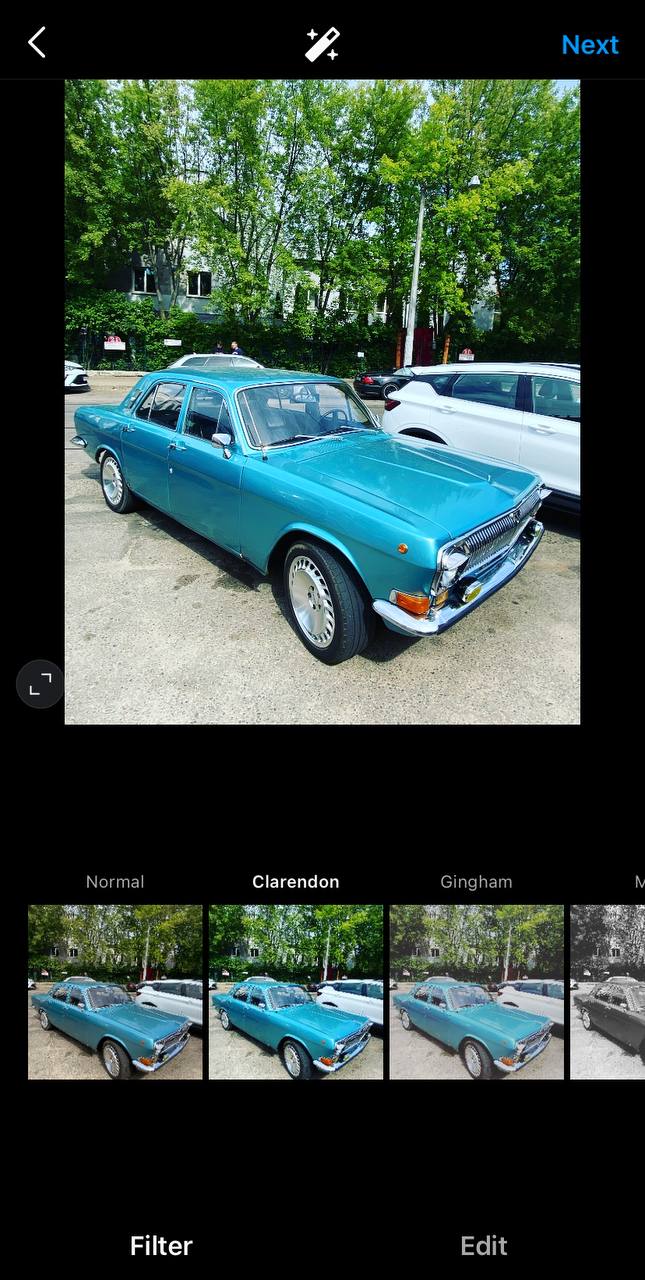 Clarendon is one of the most popular Instagram filters because it creates such vibrant and crisp imagery. The filter turns up the saturation and contrast to make colors and shadows pop. While it adds a cool tint to photos and videos, it doesn't impact skin tones.
Clarendon is great for use with portraits and even landscapes. It's easily among the best Instagram filters for photos.
2. Rise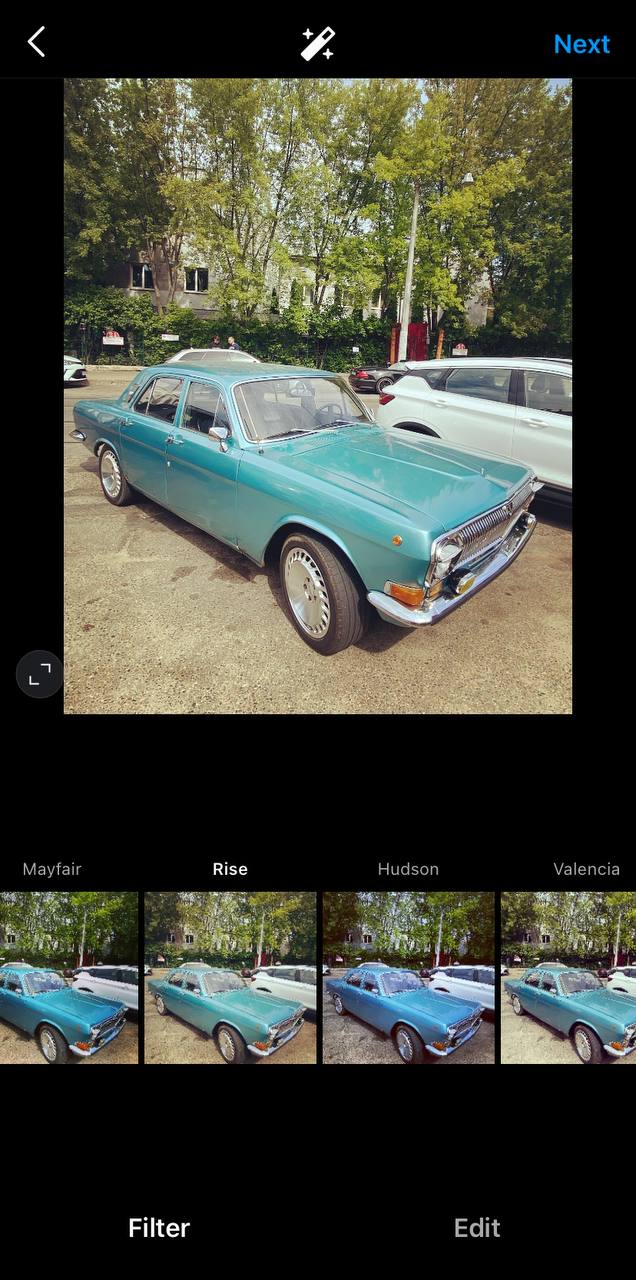 Rise is another popular filter that adds warmth to photos and videos. It's great for selfie and portrait content, but you can also use it for landscapes if you want to add a morning glow.
3. Juno
The Juno filter brightens colors, brightens whites and highlights, and boosts contrast. It can help make colorful subjects, like food or flowers, really pop. Because Juno amps up the warmer tones in photos and videos, this filter can also work well for landscapes – natural or urban.
4. Hefe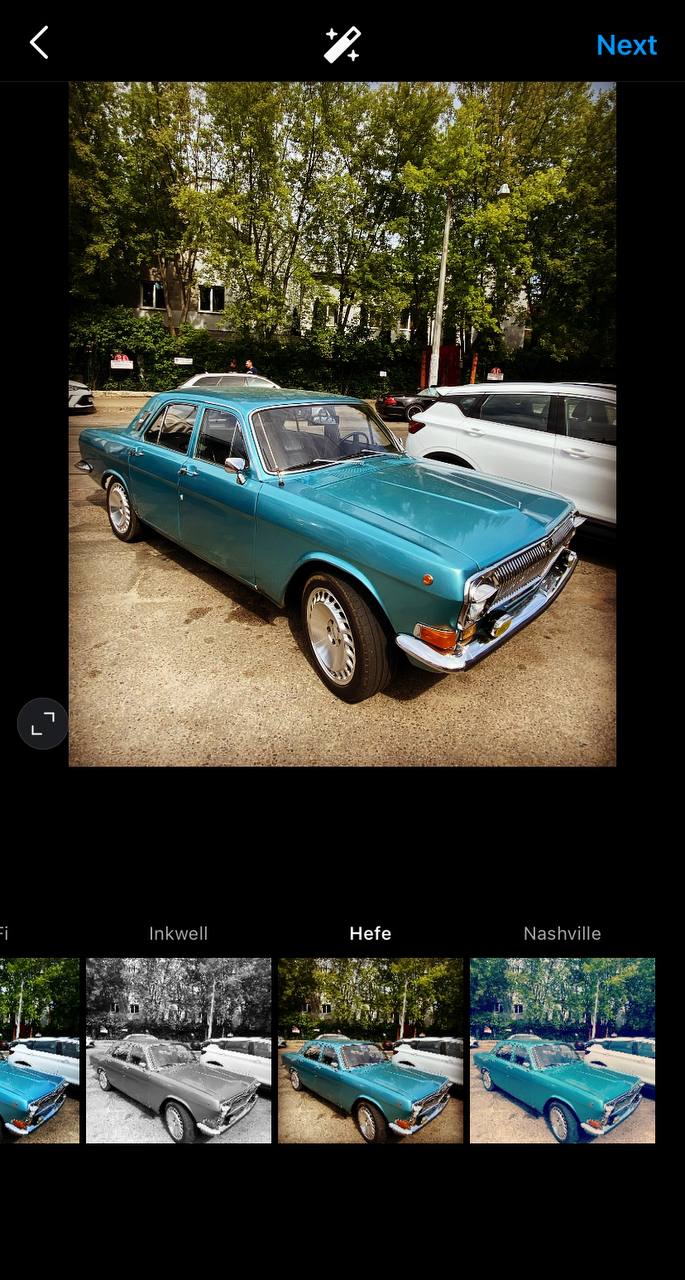 Hefe is a dramatic filter that deepens shadows, sharpens edges and makes colors more vibrant. While you can use this filter with any type of content, it tends to work best with landscapes and cityscapes.
5. Tokyo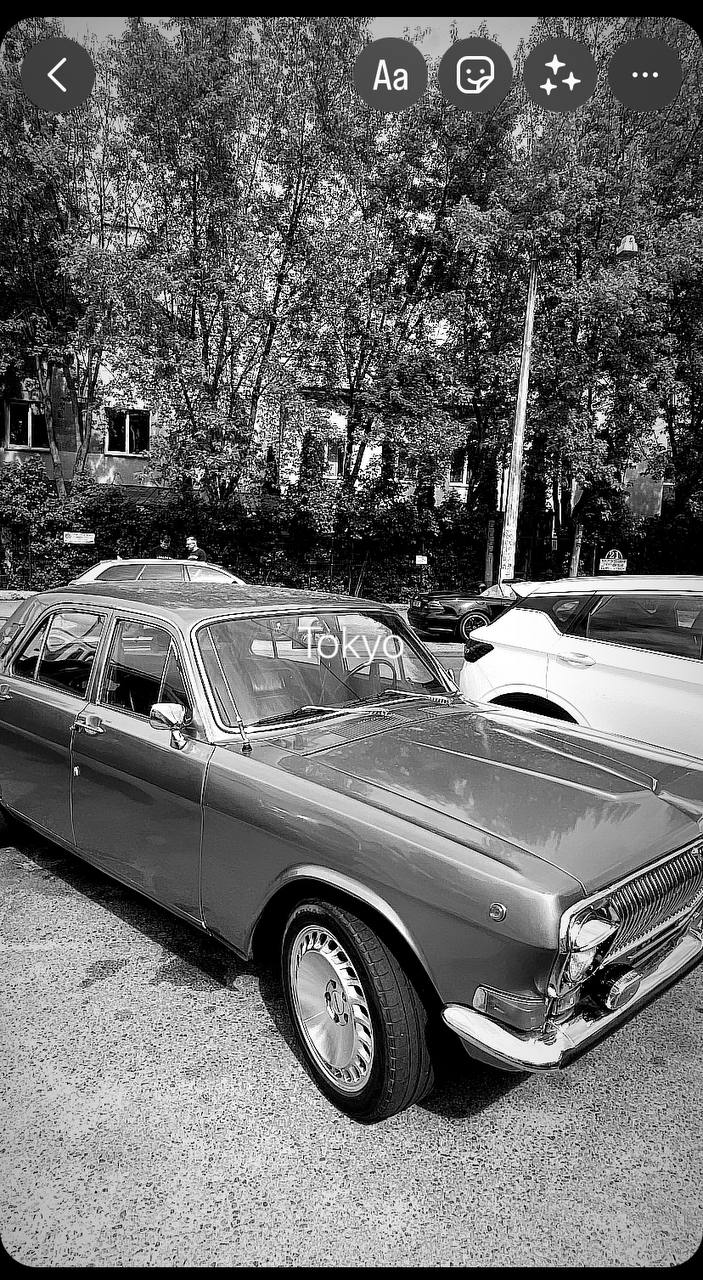 Want to desaturate your Instagram content? The Tokyo filter makes your photos and videos black and white. Use it for Stories, Reels and regular posts to add drama. The filter also kicks the contrast and highlights up a notch to make your content stand out.
6. Oslo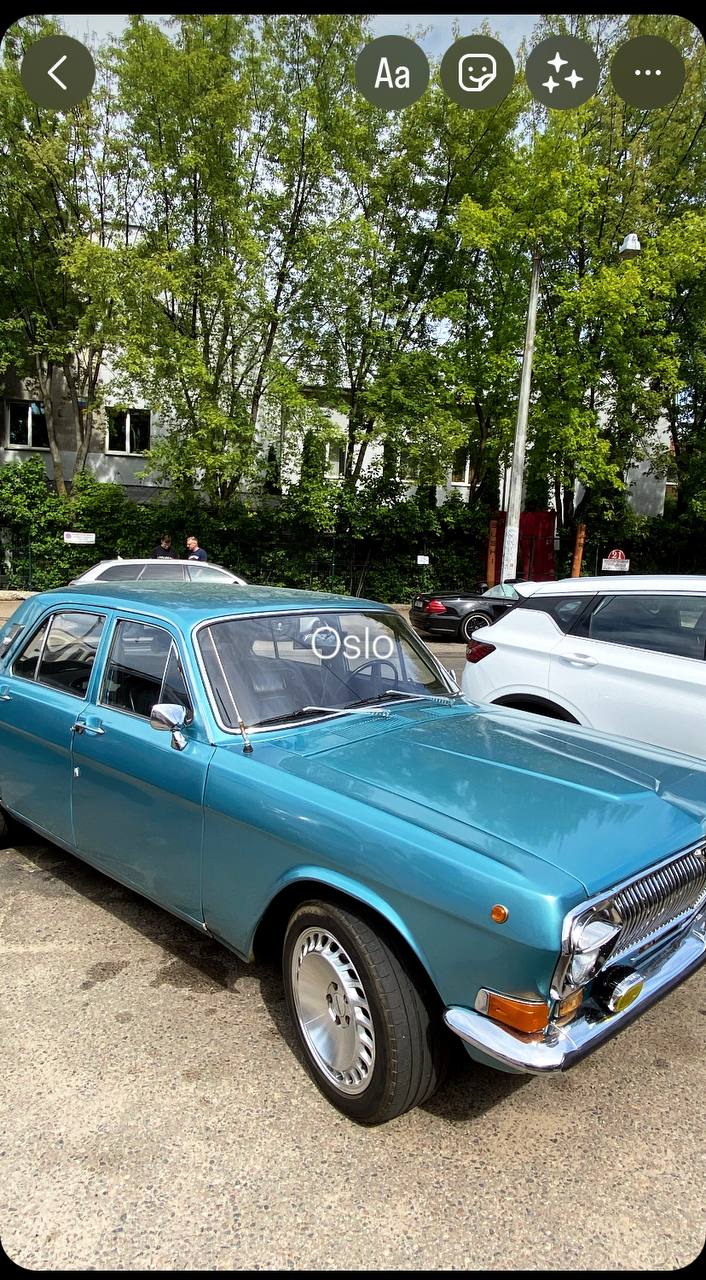 Oslo is a great all-around filter for Instagram. It makes skin tones warmer and boosts contrast, but it works its magic in a subtle way. While many users prefer this filter for portraits and selfies, you can easily use it for landscapes, food and even cityscape scenes.
7. That 90s Film
If you want to give your Instagram content a vintage feel, That 90s Film is the perfect filter. It brings you back to the days of 90s VHS, with its cool tint and slightly blurred edges. The filter is the ideal choice for creating nostalgic vibes.
8. Ludwig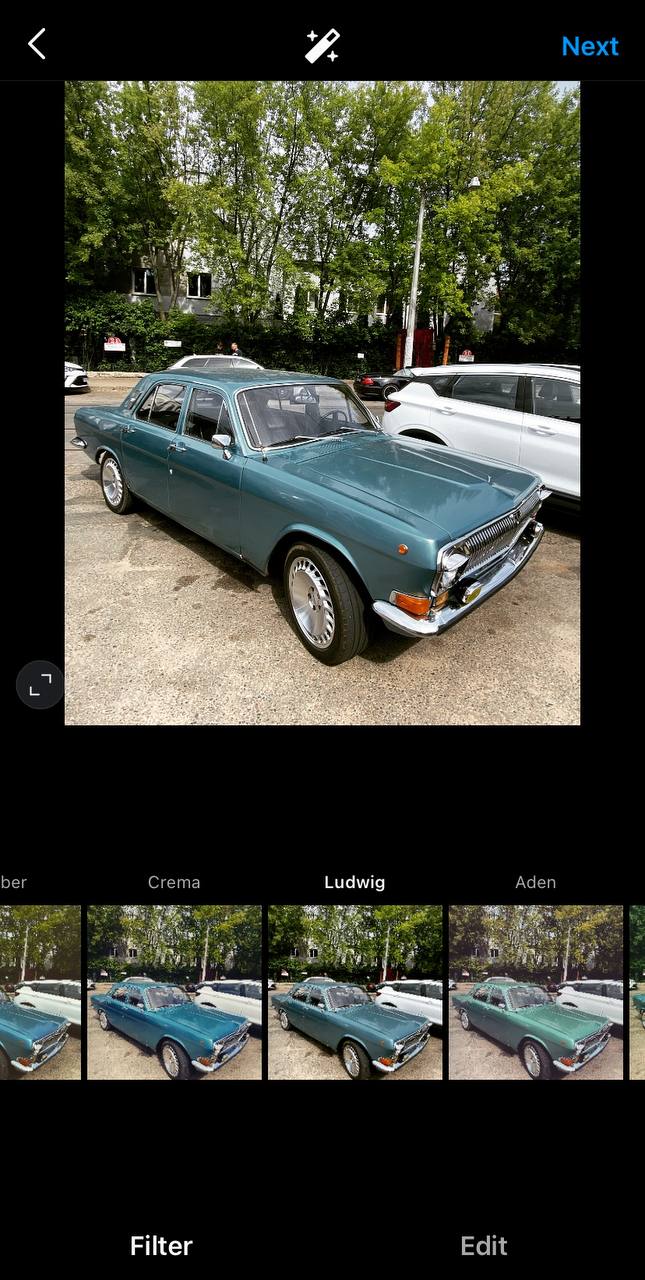 The Ludwig filter tones down the saturation and luminance of greens, yellows, magentas and blues while making red more saturated and boosting contrast. It's a great filter for black-and-white content, but it can also help create a moody tone for your Instagram photos and videos.
9. Lark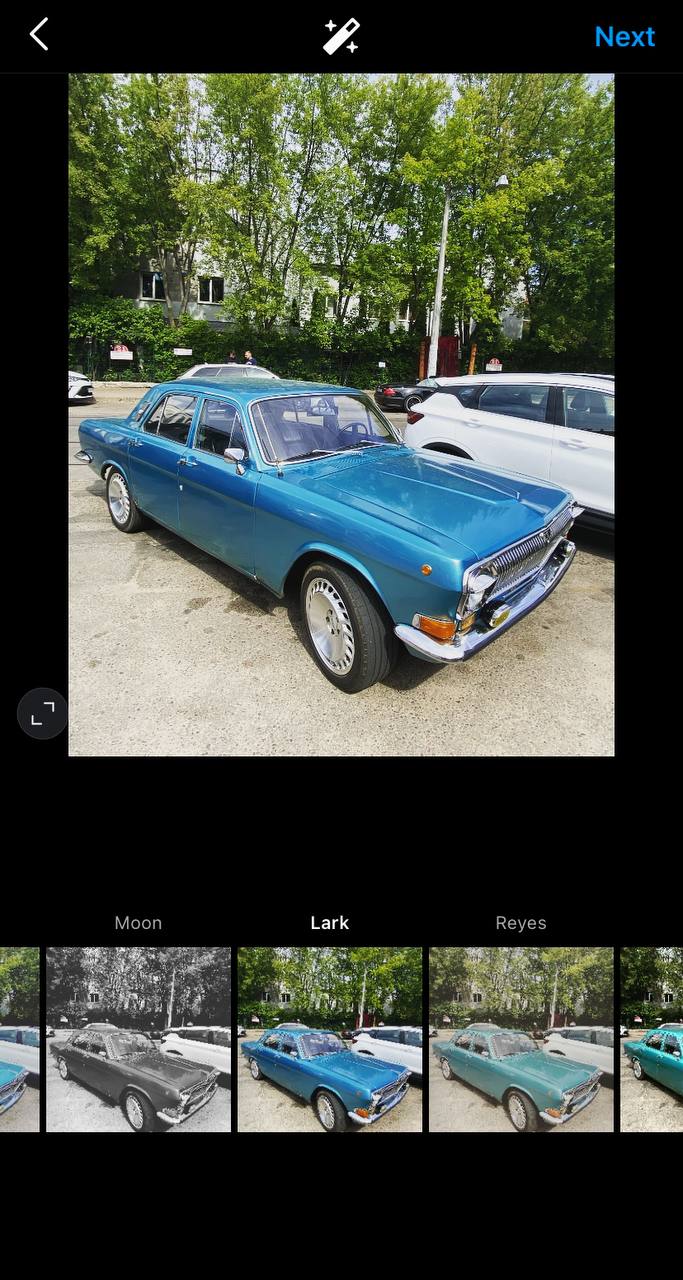 Lark is a great filter for low-light content because it brightens things up, but it does have a slight washing-out effect. This Instagram filter decreases the saturation of purples, red and magentas while boosting the exposure and saturation of blues and greens. It's ideal for content with green landscapes and seascapes.
10. Gingham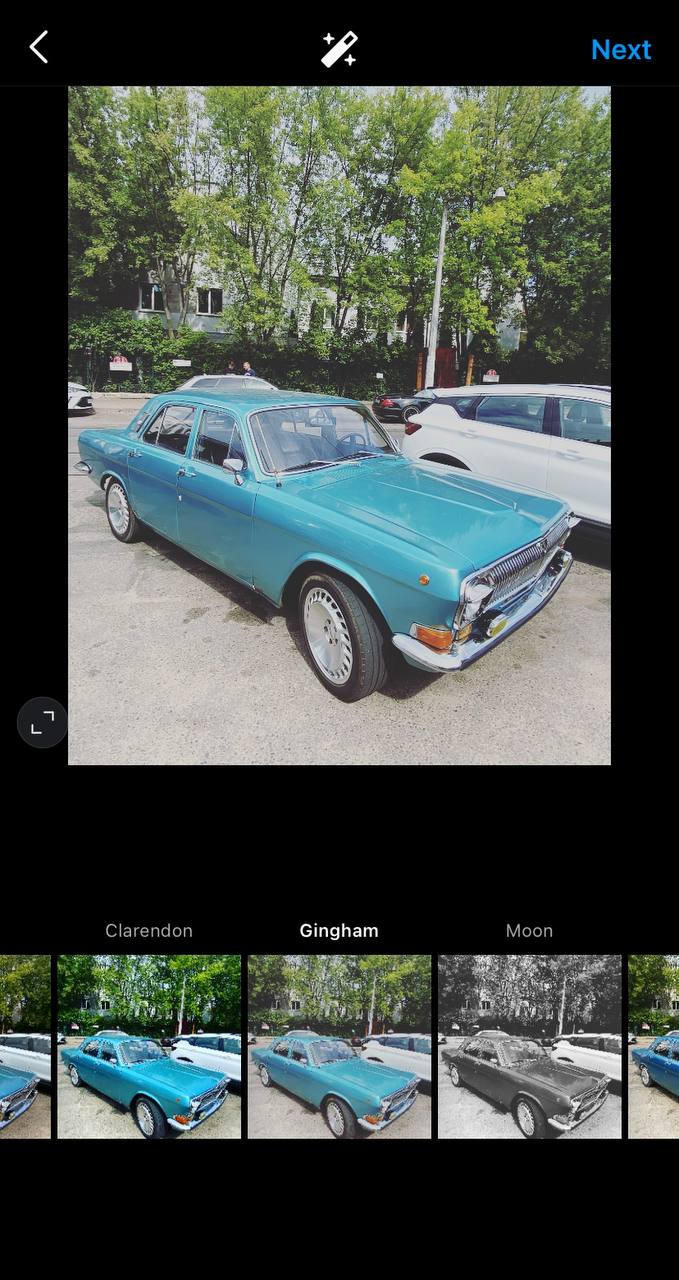 Gingham is a fun filter for when you want to create retro-style content. It tones down highlights and saturation while adding haze and a subtle white vignette.
11. Lo-Fi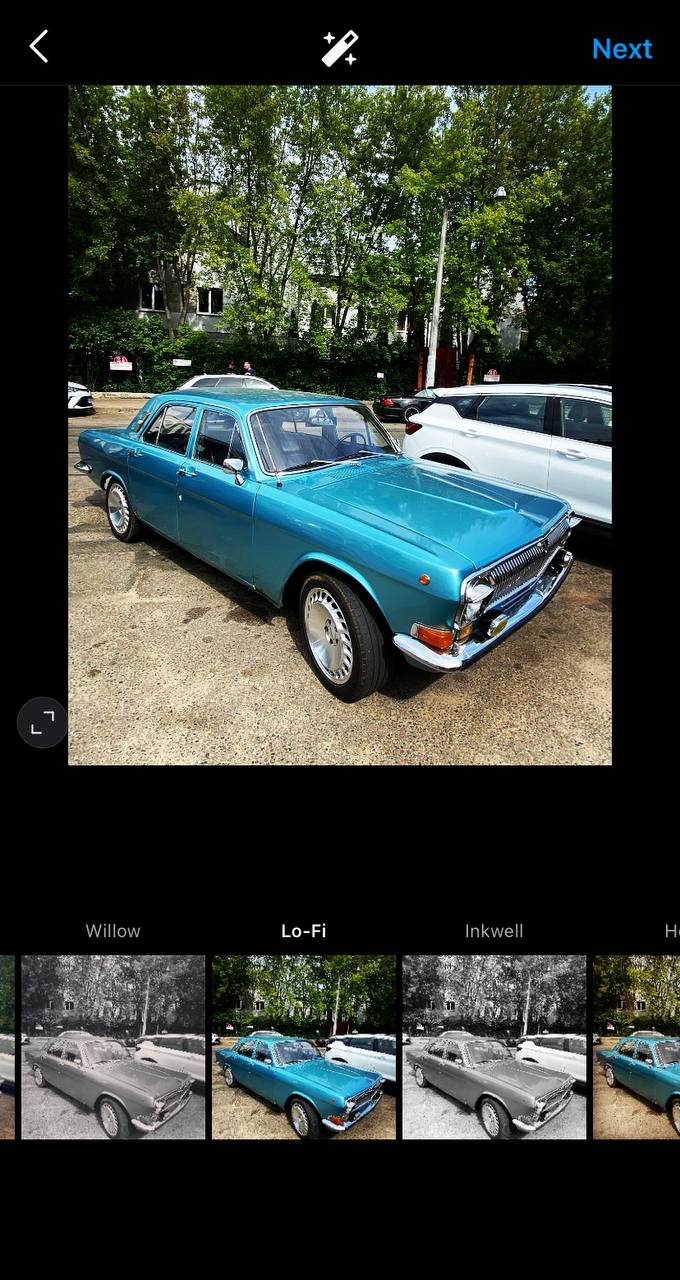 The Lo-fi filter is another popular choice for Instagram users because it intensifies everything, including saturation and shadows. Lo-fi is a great choice if you want your videos and photos to be darker and more dramatic.
12. X-Pro II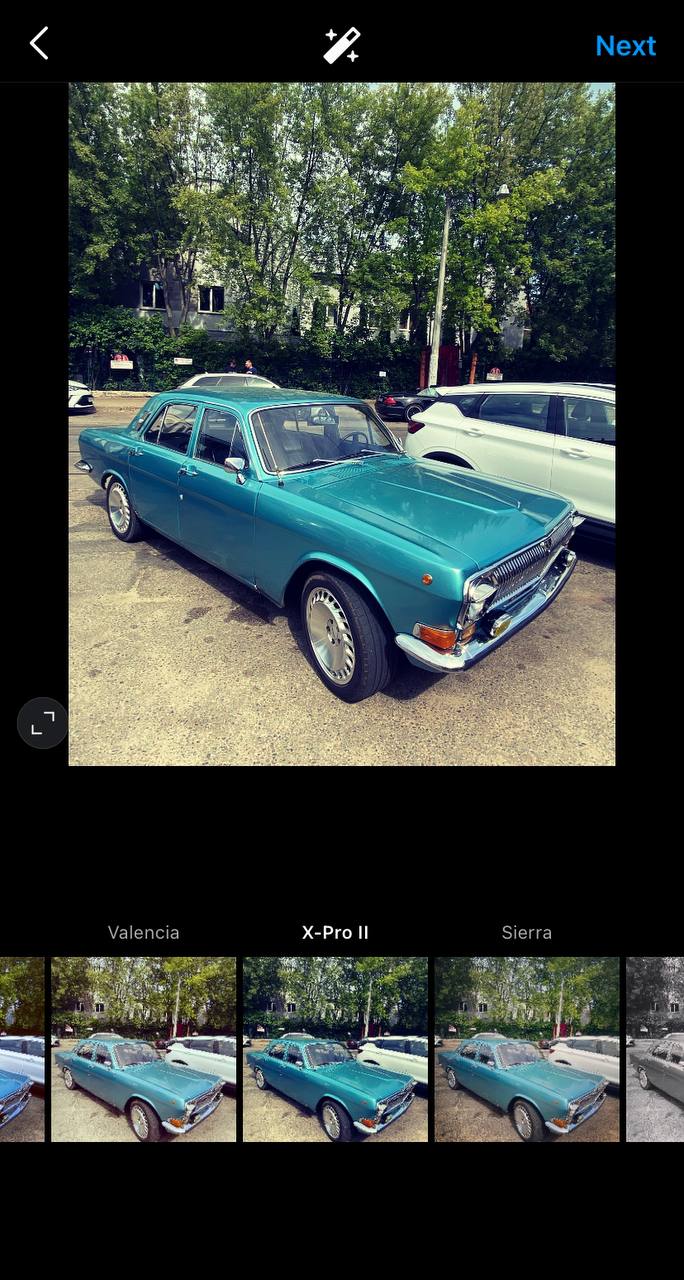 The X-Pro II filter gives photos a cross-processed look, and it's one of the most dramatic filters on Instagram. It deepens shadows dramatically and adds a vignette. X-Pro II is one of the oldest filters on Instagram, and it's still popular for concerts, events or when you want to create a vintage look.
13. Sierra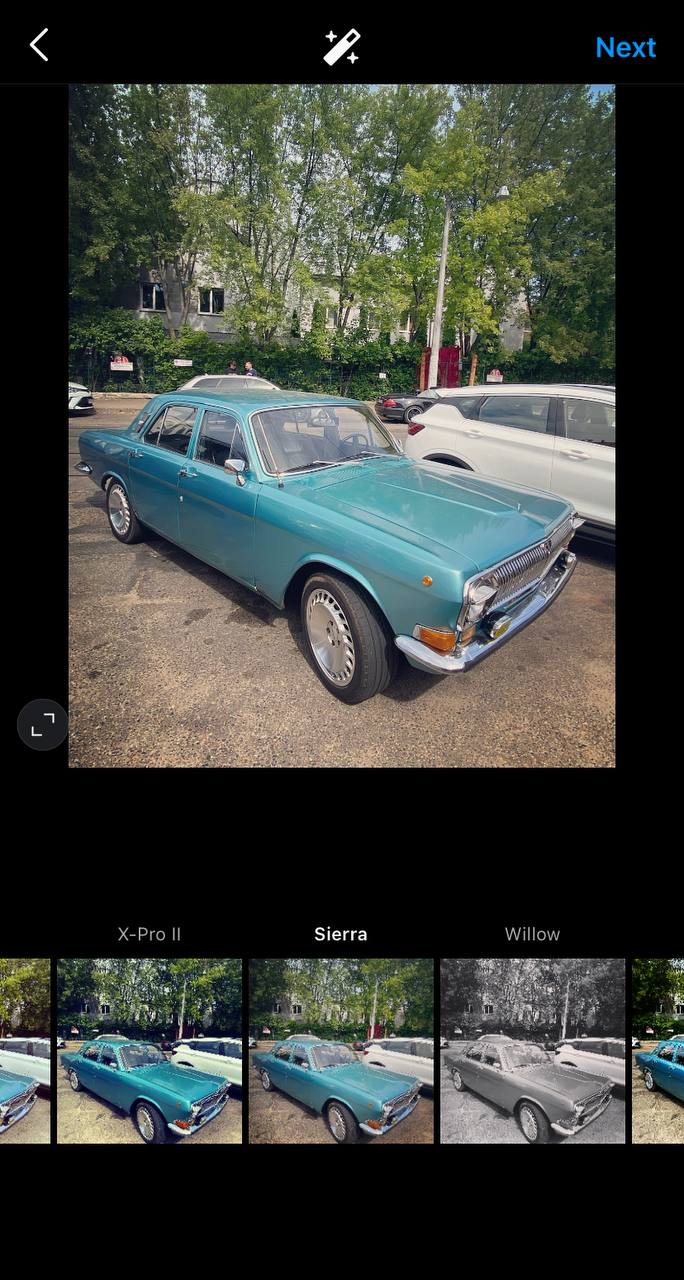 Sierra is a popular filter for still life and landscape content. Vignettes add depth and a subtle glow while toning down saturation and highlights.
14. Mayfair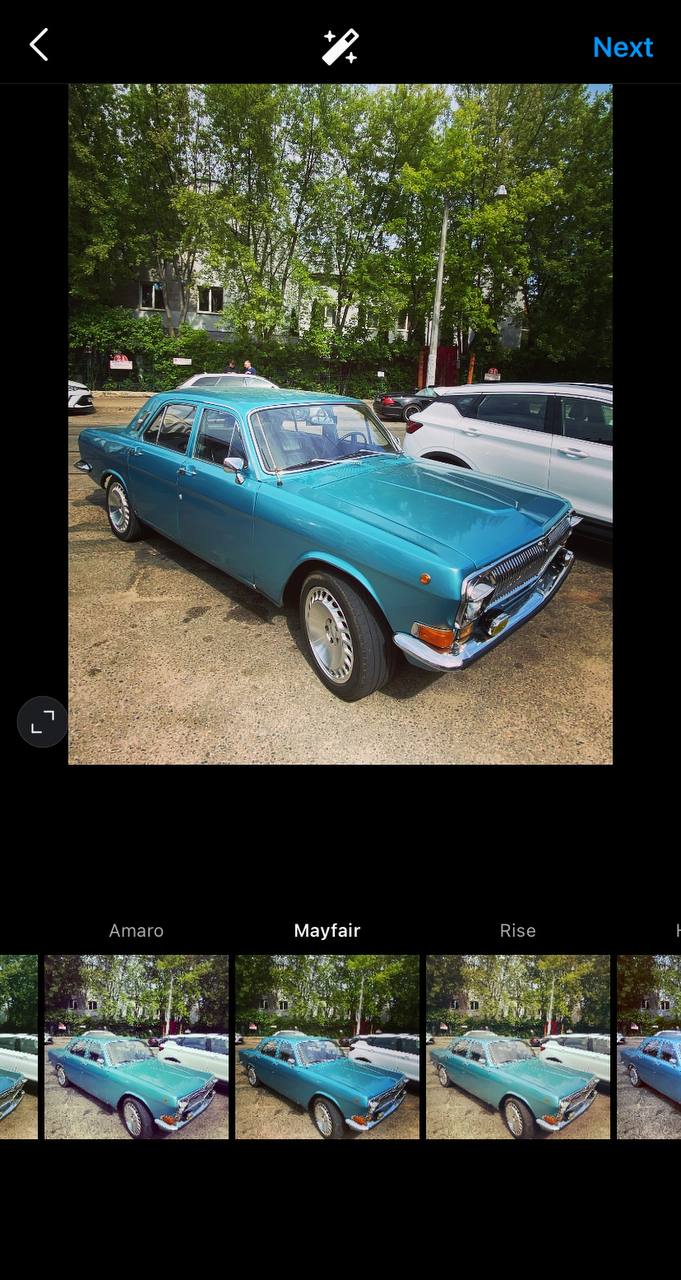 The Mayfair filter is great for warming up colors and adds just a subtle vignette to add depth. It also boosts contrast and adds a glow to the center of the photo.
15. Inkwell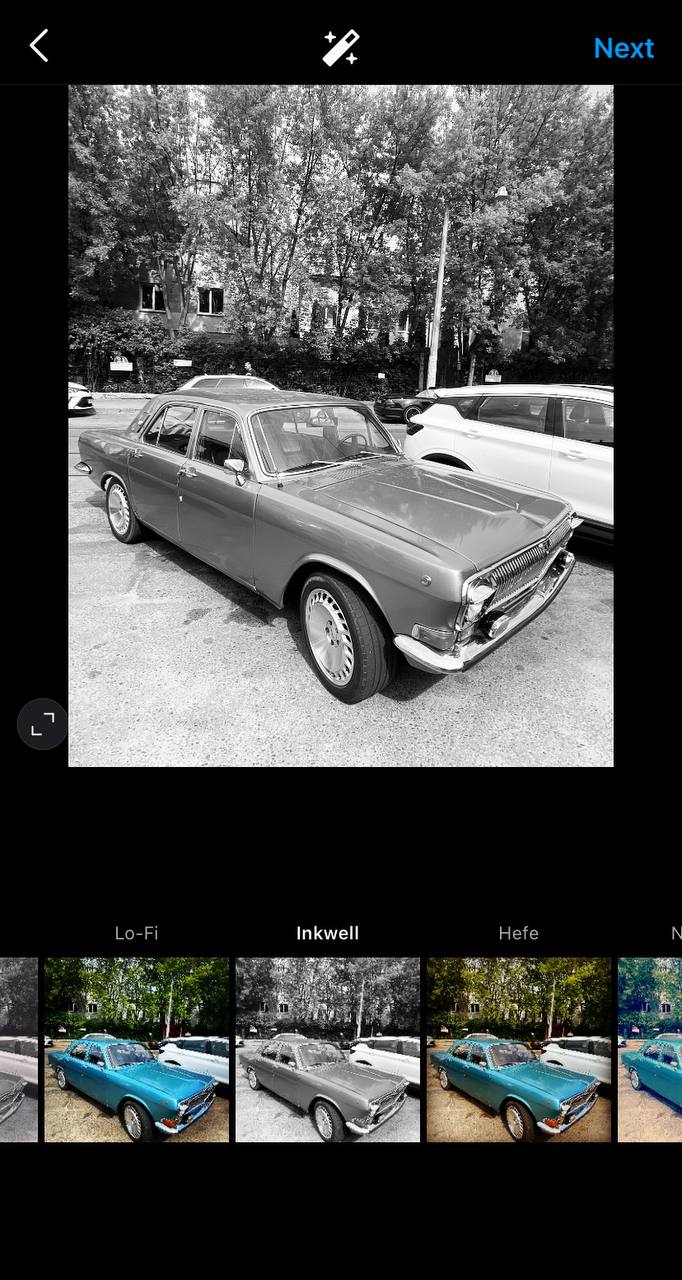 If you want to create content in black and white, Inkwell is a dramatic filter that will get the job done. This filter boosts highlights and contrast levels to really create a dramatic, retro vibe.
16. Valencia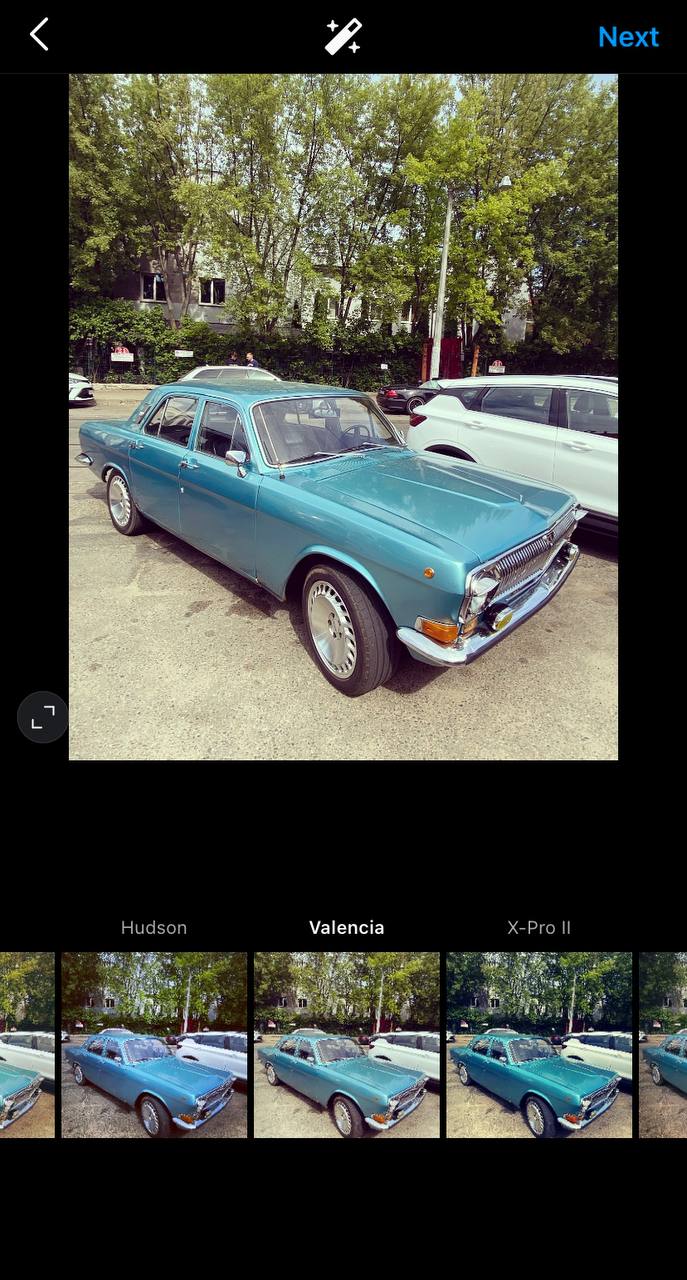 The Valencia filter adds a subtle retro look to your Instagram content. It adds a pale yellow tint that really enhances nature images and videos, making earthy colors pop. Valencia is also a popular filter for fashion content.
17. Walden
Walden is a filter that draws attention to the center of the frame by adding a blue tint. It also adds a slight vignette and a cool tint to shadows. Because of its bluing effect, this filter works best with well-lit images and videos.
18. The Glow
The Glow is a popular filter for Stories because its effects are subtle yet beautiful. It helps boost warm tones, brightens eyes and smooths skin. It's the ideal filter for portrait and self-style Stories because it adds a sunkissed glow.
Using Wave.video to Create Your Own Instagram Filters
Wave.video helps you create and configure your very own color filters and effects. If you want your videos to be truly different than everyone else's on the platform, Wave allows you to:
Apply filters using a color you choose
Choose transparency and tone options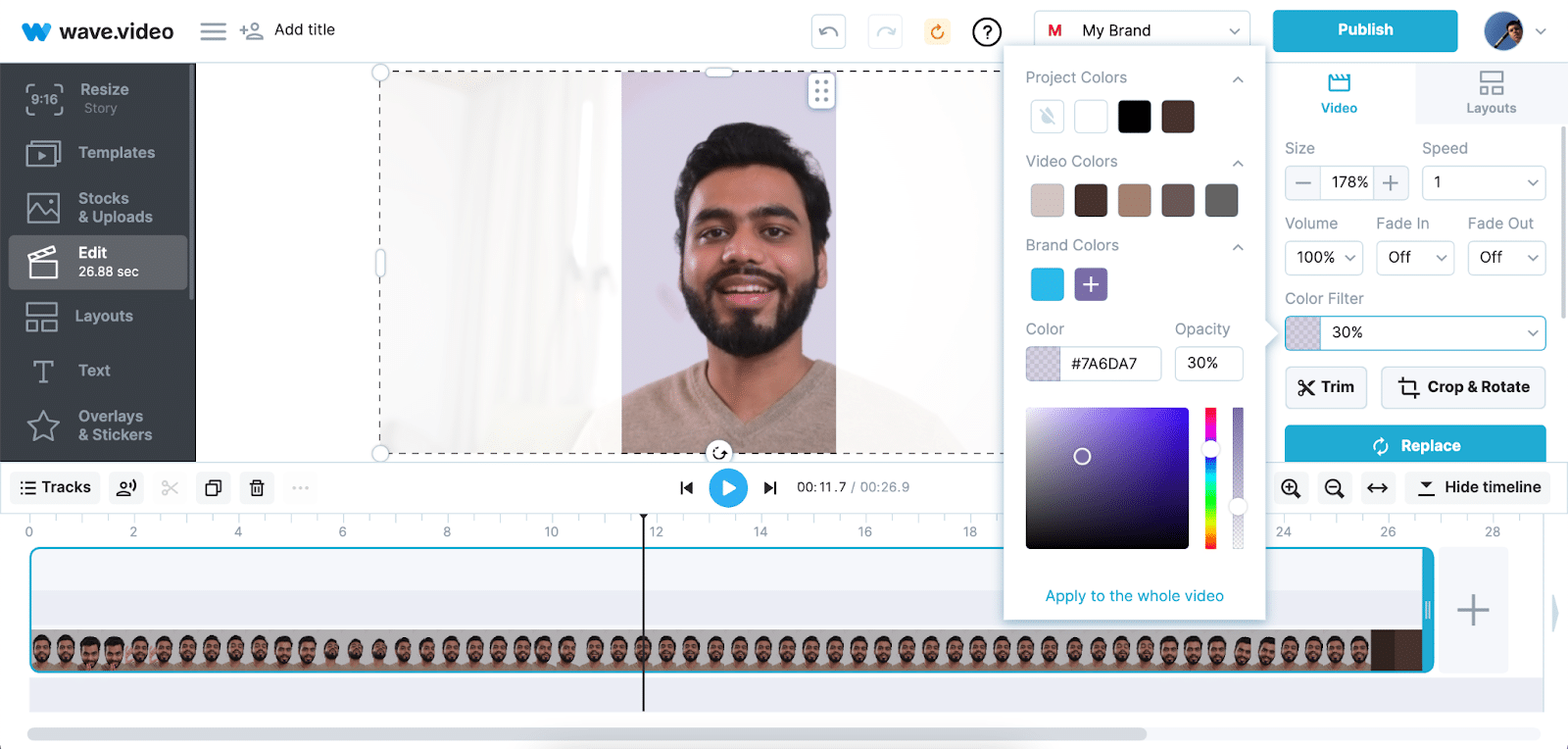 Use your own color filters with our extensive library that includes:
You can even configure different animation types to create your own visuals.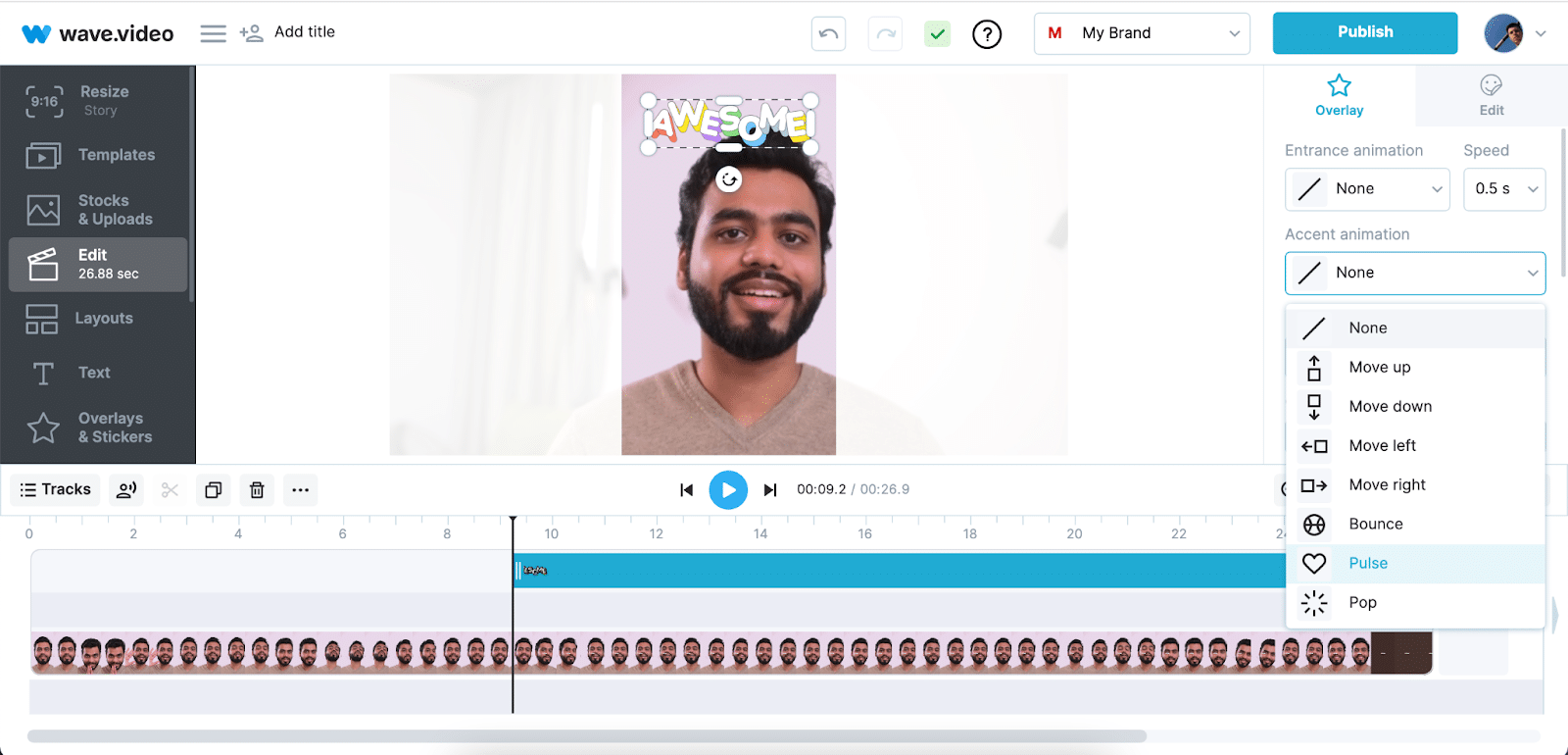 Next, you can transform your image by using numerous layouts. You can frame your video, add shapes, graphics or even text to the video.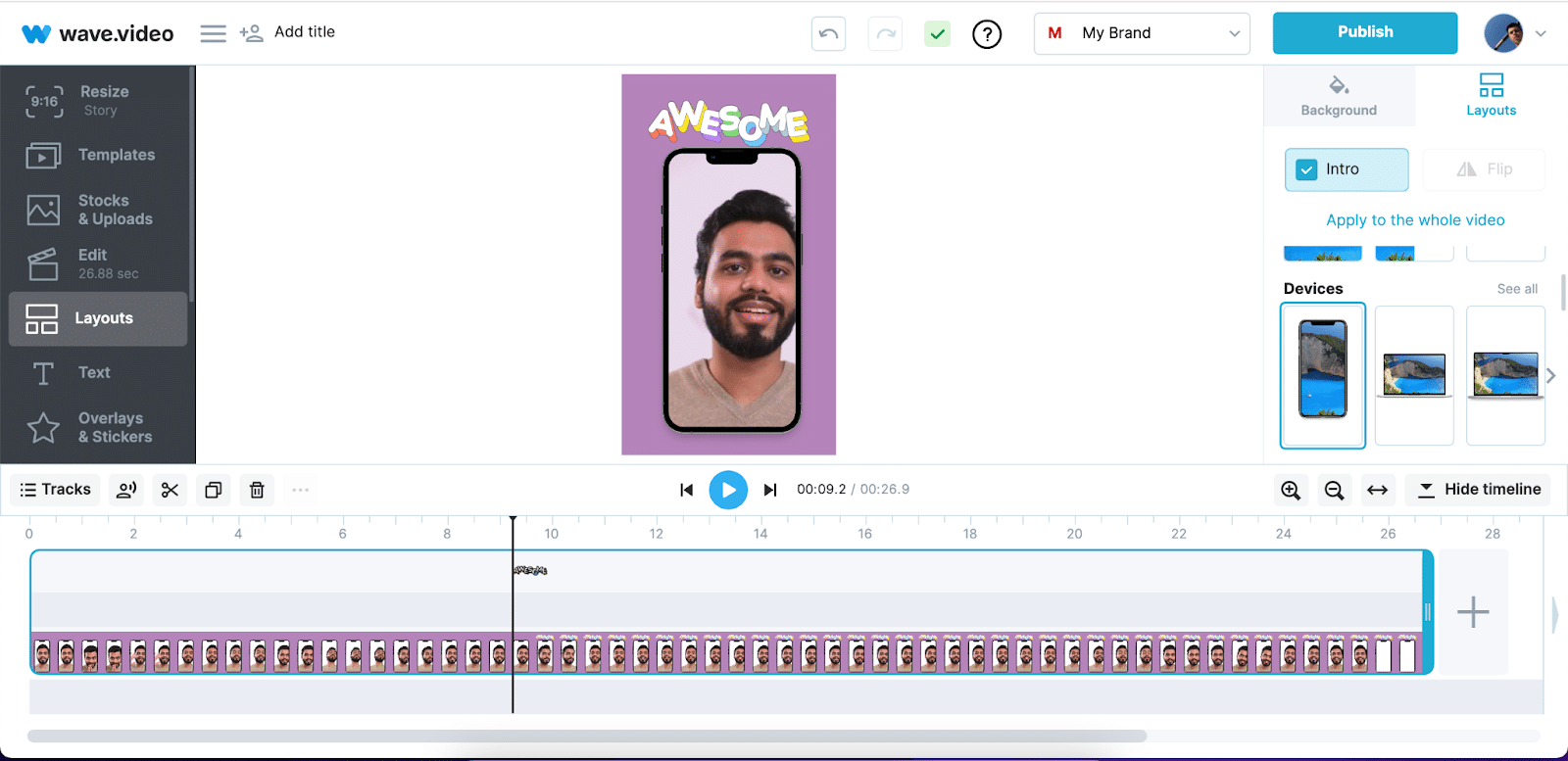 If you have an Instagram video that you want to begin editing and add your own filters to, you can follow these steps to get started:
Sign into your account
Upload your video to our platform
You'll then have the option to edit your video. Once on the screen, you'll make sure to click on the "Edit" button on the left of the screen. Now, click on your video and you'll be presented with a "color filter" that you can adjust and apply to portions of or the entire video.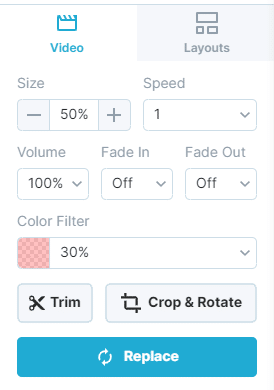 Click on the color filter checkered box to choose your color and then add a percentage. When you're satisfied with your filter, you'll then have the option to apply it to your video.
You'll also find other editing options, such as fade in and fade out that you can tweak to your own liking.
Additionally, if you click on "Layouts" at the top, you can rapidly adjust the video's layout to match something that you prefer.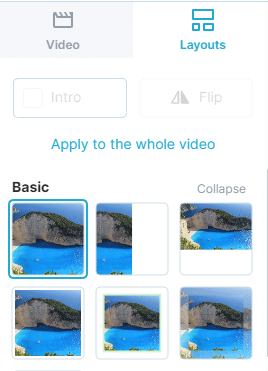 You can also add in other options using the menu on the left side of the screen. For example, you can add text, overlays, stickers, watermarks and more right inside of the editor.
While not your traditional "Instagram filter," Wave.video does allow you to edit your videos in a way that isn't possible with filters alone.
Conclusion
The best Instagram filters can transform your images and videos in ways that aren't possible with your phone's app. Whether you're searching for Instagram filters for photos or videos, the options above are the most popular in the industry.
Additionally, if one of the popular Instagram filters don't provide the effects that you like, you can always use Wave.video to help.
In just a few minutes, Wave.video will allow you to make edits to your videos and images. You can even sign up for a free account and begin trying out the features of Wave to see what they can do for your Instagram.