5 Best Podcast Recording & Editing Software and Apps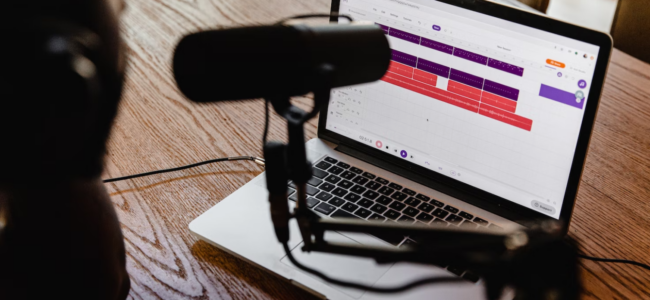 5 Best Podcast Recording & Editing Software and Apps
Running a podcast is a lot of work. If you don't use the best podcast recording software, you'll struggle to stand out in a growing market. People who make careers out of their recordings spend time to:
Use the best recording software

Learn the best editing apps
With forecasts suggesting that 160 million people in the US alone will listen to podcasts in 2023,  now is a great time to get started in the industry. In this guide, we're going to explain how to choose the best editing software and review five of the best apps in the world.
Table of Contents
How to Choose the Best Podcast Editing Software
How to Choose the Best Podcast Editing Software
Want to record and edit your podcast but don't know how to choose one app over another? The features below are a good starting point when comparing software and choosing one for your recording and editing needs.
High-Quality Audio
Podcasts rely on high-quality audio. What quality level will your production be in? Stereo quality is one of the best options available and will allow you to match the audio of the best podcasts in the world.
Editing Features
Recording a podcast perfectly the first time is nearly impossible. You will need to edit your productions. When you find software or an app that you are considering using, be sure to:
Review all features

Ask if they offer storage

Look for sound effects and music

Inquire about echo cancellation

Etc.
If you plan on creating videos of your podcast, consider any templates or creative assets that are offered as a feature. Templates can help you quickly make professional productions with little-to-no experience.
Sound Effects and Music
Does the platform come with music or sound effects to improve your production value? If not, you'll need to purchase rights to music or sound effects, which is a major expense. 
Echo Cancellation
Podcast echoing is a common problem, especially for newcomers who aren't using the best recording software or apps. The best podcast recorders will cancel echoing, allowing you to confidently record a session with multiple guests without being worried about the echo impacting the production.
Editor Ease of Use
How easy is the editor to use? Try editors to see which has a low learning curve that makes it easy to begin recording and editing podcasts.
Collaboration Options
Podcasts are popular for allowing guests to have discussions with each other. The recording platform that you choose should come with collaboration options that allow multiple people to join the podcast.
Additionally, the app you choose should make it easy to:
Organize your projects

Collaborate with team members

Log in across your organization
Web-based
If you're just starting to create your own productions and don't have a dedicated computer or laptop to edit your podcast, consider web-based editors. With a web-based solution, you can easily:
Record podcasts

Edit podcasts
You can also get started with your podcast faster if you choose a web-based option over one that requires you to install it on your own device.
5 Best Apps to Record Podcasts
The apps below include some of the best software and apps for recording and editing podcasts. We used the criteria above when creating this list to make it easier for you to find an app that has the features and ease of use you need to create professional podcasts.
1.
Wave.video

Wave.video tops our list of the best podcast recording software. You'll find multiple pricing tiers and a free option, which you can begin trying today. The platform's features allow you to invite up to 9 people into a recording room at once, and they don't need an account to get started.
Some of the key features that make this our top choice for podcast editing include:
Improve recording quality with advanced echo cancellation and stereo audio features

Built-in editor allows you to rapidly edit your recording

Add in audio effects or music with an impressive library of royalty-free options

Create video podcasts with customizable layouts, multiple design features and overlays
You never need to install Wave.video, either. Sign up for the platform today and you'll have immediate access to the web-based recorder that you can use with any Internet browser.
Users also gain access to free storage. The free tier offers a generous limit of 10GB, the creator tier has 30 GB of storage and the business tier provides 500 GB of base storage. You can also purchase additional storage on the business plan.
Pros
Free tier to try

Web-based functionality

Echo cancellation

Easy-to-use interface

Free storage for your productions
Verdict
If you want to try free podcast recording software that outperforms the competition, Wave.video is our top choice. The bundle of powerful tools and low-cost pricing tiers (you can use the basic editor for free), make this a must-try option for anyone creating podcasts.
2.

BounceCast

BounceCast is a unique recorder and editor because it comes with artificial intelligence built-in. The AI incorporated into the editor makes it much easier to edit your production and creates a very high-end production.
You can record your podcast on a desktop or on an app.
A few of the key features include:
Audio AI to create clear, loud audio

Equalizer control to control the unwanted frequencies in your audio

Soundcheck system to better record videos of high quality
With BounceCast, there are a lot of pros and cons to consider.
Pros
Easy to import multiple audio types (WAV, FLAC, AiFF, MP3, etc)

Soundcheck and AI offers high-end recording from the start

Audio recording, trimming and automatic leveling option

Audio restoration options to reduce noise and distortion
Cons
Higher monthly cost

No web-based options
Verdict
BounceCast is an amazing option for anyone who is just starting out with their podcast and wants to limit the need for editing. 
3.

Podbean

Podbean may not be the best podcast editing software but it excels in recording and hosting. The app isn't the best solution for editing, so we do recommend using it with another editor on this list.
Where this app is different than others is:
Hosting option that makes monetization easier

Can add a patron option for fans of your podcast

Easy music integration option

Magic editor
However, there are pros and cons to know with the platform:
Pros
Podbean makes it incredibly easy to monetize your podcast and host it

Easy collaboration and ability to add guests or co-hosts

Audience engagement tools allow you to see followers, respond to comments and more

Add exclusive music integration to your productions
Cons
Lacks significant editing capabilities

The business plan is very expensive
Verdict
Podbean is a great choice for anyone who wants to use a recorder that allows offers podcast hosting involved. The limited version is a good option to try, but if you want access to more powerful features, you will need to use the paid version.
4.

Adobe Audition

Adobe is a leader in creative software, and Audition is a professional-level program for audio editing. With Audition, podcast creators can edit, mix, restore and record audio using one simple tool.
Audition is loaded with features that make it easy to create and edit your podcasts, including:
Essential Sound for professional-level audio

Multitrack and single recording

Built-in presets make it easy to get started

Advanced compression and noise reduction options

Batch processing
Audition is compatible with both Windows and macOS, so it's an accessible tool for podcast creators.
Pros
Includes podcast-centric features

Professional-quality audio
Cons
Monthly subscription can be expensive 

A steep learning curve
Verdict
Overall, Adobe Audition is a great choice for experienced podcast creators who have knowledge of audio editing software. However, if you are just getting started, have a small budget and little knowledge of editing programs, Audition may be too advanced and complex.
5.

Auphonic

Auphonic may not be one of the best apps to record podcast episodes, but it's great for post-production work. This advanced tool uses AI algorithms to achieve professional results, even if you are a newbie to the audio world.
Auphonic's AI-based functions include:
A smart leveler to balance music, speakers and speech

Loudness normalization

Automatic noise gate, ducking and cross talk removal

Audio restoration that reduces unwanted hums and noises

Speech recognition and transcript editor in more than 80 languages

Audiograms

Encoding, chapter marks and metadata

Wide variety of content deployment options
If you're just getting started with your podcast, you can use Auphonic for free for up to two hours of audio per month.
Pros
AI-based tools eliminate guesswork

Speech recognition transcriptions

Lots of export options
Cons
No option to record your podcasts 

Some features are not available on the desktop version
Verdict
Auphonic is an intelligent tool with a variety of excellent features. However, because you cannot record your podcasts using this software, it's only ideal for podcast hosts that need to do post-production work.
Conclusion
If you use the best podcast recording software, you can create professional podcasts that people want to hear. The list above provides you with five unique solutions that include options for someone just starting with their podcast and even experts with millions of subscribers.