10 Best EdTech Tools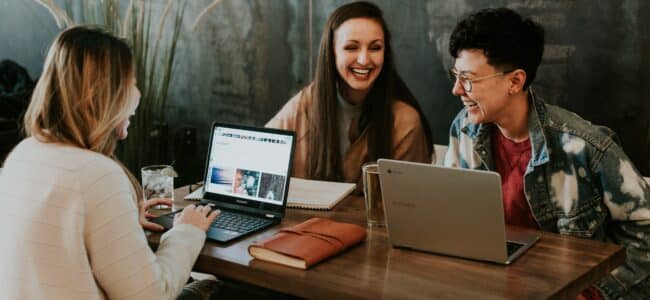 EdTech tools leverage the connection of education and technology to teach today's tech-savvy students in new, exciting ways that weren't possible in the past. If you want to enhance the education experience, the guide below includes the industry's best options.
Table of Contents
10 Best EdTech Tools
1. Wave.video

Wave.video is our top choice for EdTech tools, and it's a feature-rich video editor that is user-friendly. Educators can begin using the platform in minutes, right in their browser, so there's never a reason to download it.
Wave offers a wealth of features that are useful for educators, including:
A built-in video recorder that makes it easy to record lessons, tutorials and webinars
Live-streaming options with the ability to communicate with students via chat
Video lesson storing options
Easy to embed videos into emails or schools pages
Access to over 1000+ templates to use for educational lessons and webinars
Pros
Easy to set up a live stream or create a new recording
Templates take the "hard work" out of creating lessons
Quickly chat and communicate with your students
Verdict
Wave.video changes how teachers create lessons and connect with students. You can quickly and easily create lessons and webinars to share with students and educate them in ways that are fun, exciting and engaging.
Plus, you gain access to 1000+ templates to create professional lessons with the greatest ease.
2. Scratch

Scratch is a massive coding community for students that was started by MIT. The platform is free for kids and students who want to begin creating their own animations, games and stories. For coding, it doesn't get much better than Scratch.
Pros
Drag-and-drop interface
Easy for kids of all ages
Visually appealing, with a few customization options
Cons
Very fundamental and doesn't teach "real coding"
Verdict
Scratch is one of the best EdTech tools for coding, and there are options for students, parents and educators who want to master the basics of coding. However, the drag-and-drop nature of the platform and easy options don't teach actual coding. Rather, it is more to excite students to learn more.
3. Trello

Trello is an amazing organizational and scheduling tool, and it allows teachers to create their own boards with information for their students. Trello is one of the best options when working on big projects or sharing information with an entire class.
Pros
Promotes collaboration between all members
Offers a fast, easy way to organize tasks
Integrates with dozens of other tools and platforms
Cons
Large projects become very difficult to handle
Requires and account to share projects
Verdict
Trello for educators allows teachers to work with worldwide groups, making it easier to:
Plan
Collaborate
Organize
In terms of visual collaboration, Trello is one of the world's best tools and keeps getting better every year, thanks to frequent updates. However, when working on larger projects, students can often get overwhelmed with the number of cards and layout on the platform.
4. DuoLingo

DuoLingo is the world's leading language learning app and has recently undergone a redesign to make the app even more useful for students. The app has a "for Schools" version that is free to use and allows students to learn a new language in a personalized environment and at their own pace.
The platform has a lot to like, including:
Pros
Effective learning methods for reading, speaking and listening
AI-based personalization to help students learn a language at a pace that is right for them
Motivation built-in with game-like features, reminders and challenges
Cons
Feels redundant after months of practice
Lacks advanced language skills
Verdict
DuoLingo is a great way to learn the basics of a new language and has a fun, exciting interface that will keep students coming back daily to learn. The platform's AI and personalization allow students to spend just minutes per day to begin learning a language.
5. HeadSpace

Headspace is a meditation and mindfulness app that is designed to help people manage anxiety and stress. This app will greatly benefit students who are overwhelmed or have difficulty managing their emotions.
As a tool for emotional learning, this science-based app will help students:
Sleep better
Reduce stress and anxiety
More
Pros
14-day free trial
Teaches stress-reducing techniques
Easy-to-follow sessions on meditation, sleep, focus and more
Cons
Meditation isn't for everyone
Difficult concepts for younger learners to master
Verdict
Headspace is an app designed to help people of all ages better manage their stress and anxiety. The app is free to try and a good option for certain age groups. However, teachers may need help teaching some of these concepts to younger users.
6. Zoom

Zoom is a platform that has innovated the way people learn and businesses hold meetings. The platform brings teams together with workspaces, mail, calendars and other forms of communication built-in.
The platform has a lot of tools that make learning easier:
Calendar
Email
Whiteboard
VoIP system
Team chat
Virtual meetings
More
Pros
Apps available for virtually all devices
Restricted access options and breakout rooms are available
Chat forums to make participation easier
Cons
Comment controls are lacking
Verdict
Zoom is developed to be one platform to connect users, and it works great for educators who want to meet with their students virtually. The platform is already one of the most popular in the education space, and Zoom will likely remain one of the leading platforms for years to come.
7. Khan Academy

Khan Academy is one of the world's leading education tools and it has remained true to its cause since its release. The nonprofit offers materials and courses to help students of all ages, starting at pre-K and going through high school and college.
Pros
Free and accessible to anyone with an Internet connection
Extremely high-quality courses taught by experts
Access at your own pace to learn material
Cons
Lacks interactive functions to keep students engaged
Some classes are not in-depth
Verdict
Khan Academy is one platform that teachers and students can use to enhance the learning experience in fun ways. You'll find a wealth of teacher materials available to help supplement the classroom experience, along with options for finance, math, science and more.
8. Wakelet

Wakelet is one platform with an infinite amount of possibilities. The platform is designed to bring learning to life with visual, engaging collections that will inspire and inform students. Teachers who are preparing courses for their high school students will benefit from the platform's:
Easy information tracking
Creative spaces for class collaboration
Unlimited number of collections
Pros
Free to use with unlimited collections and contributors included
Easy to create virtual classrooms for your own educational community
Full control over contributors and who has permission to view your material
Cons
Lacks advanced feedback options for resources
Content moderation could be stronger
Verdict
Wakelet is a tool that educators worldwide can rely upon when creating their lesson plans and makes organizing class material the least complicated part of teaching. The tool is available for free, so we're having a hard time justifying not using Wakelet.
The one drawback is the lack of feedback and content moderation available.
9. Google Workspace

Google Workspace is a highly refined tool from Google, and it was formerly known as G Suite. The platform comes with multiple pricing tiers to choose from and collaboration tools, such as Meet, Chat, Drive, Docs and more.
You can also use tools, such as Slides and Forms, to help you better teach students.
Pros
Students and teachers can use the platform for free
Google Classroom integrates very well with Workspace
Provides a massive suite of content creation tools
Cons
Lacks desktop tools for advanced offline creation
Verdict
Google Workspace provides professional tools that work seamlessly in the world of EdTech. The platform allows teachers and students to make stunning presentations, diagrams, charts, Word documents and so much more.
With the ease and accessibility of Google Workspace, it remains a leading tool in the education and business world.
10. Remind

Remind is designed to make communication and education as easy as possible. You can use the platform to create two-way messages to send to parents or students. Educators can also share classroom updates or check in on students in the class right through Remind.
The Remind app is an excellent way to make sure students and their parents are always updated on the student's progress and requirements.
Pros
Texts are sent directly to mobile phones for a high open rate
Easier to reach parents and students
Update students and teachers faster than ever before
Cons
Character limit is limited, making it challenging to send long texts
Verdict
Remind is a great way for teachers to send reminders and announcements to an entire classroom or a parent in seconds. Text open rates are a staggering 99%, and students can easily reach their teachers for help through the app.
Conclusion
The list above includes just a handful of the best EdTech tools available. You'll find many other options that will help you change the way students learn and interact.