Welcome, animation aficionados!
The year is 2015 and software trends are changing faster than the average lifespan of a Mayfly. So, we here at Animatron have decided to jump on the bandwagon and give our previously amazing Editor UI a new, more amazing-er makeover.
But why redesign an already user-friendly interface, you might ask? Science. Well, perhaps not science explicitly, but it has a lot to do with spacial reasoning, framing and workflow enhancements!
Here's what we've changed so far:
Our latest build brings you some refreshing new information panel and switch locations. Namely our new Scene Inspector, located along the right side of the Editor, now provides you with an at-a-glance column that shows you a reel of your saved Scenes within your current project. This new Scene Inspector provides some editable info fields for both Scene Name and Scene Duration.

Along with the addition of our new Scene Inspector comes a new, more convenient Animation Mode Switch. Relocating the Mode Switch from the bottom-right of the old Inspector Panel to it's new home at the top-center of the Editor, means it is easier to visually locate, through color, position and size. Make easier work of your keyframing needs!


Wait a second...where did the Alignment Tool and Pathfinder go? You can now find both the Pathfinder and Alignment Tools at the top-right corner of the Editor, just below the Publish Settings! Discrete, yet equally functional, these new UI positions make it easier to clear up space for more frequently used tools and panels.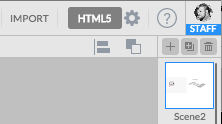 Where did all of my Project Parameters go!? With this new UI layout, we wanted to focus more on showing you less. Not less of the good stuff, just less of the infrequently used info panels and clutter! So, we decided to move all of the "project specific" information and parameters to one place. Now, at the top-right of the Editor, to the right of the Main Menu Icon, you can simply click on your Project Name, revealing all of the necessary parameters in the Inspector Panel just below.
This new panel allows you to change all of the familiar parameters such as name, canvas size and background color. Along with the newest additions of editable Project Description and Project Tags, this panel now houses your Sharing & Privacy Options. This all makes for a sweet, compact section to open and close as you please!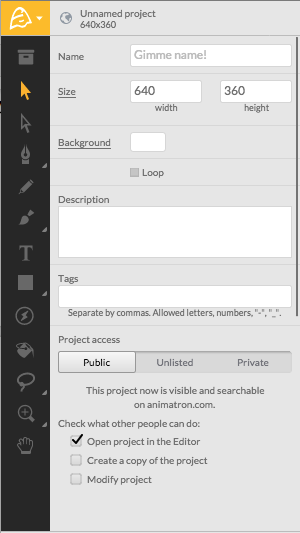 And here's all the new goodies:
Let's continue from where we were with the new Project Parameters and just make you aware of the new Inspector Panel that they appear in! What once existed on the right, now exists on the left of the Editor. But, why the left side? Well, simple workflow technique suggests that the quickest and shortest distance your cursor must travel to select, edit and ultimately apply a tool to the canvas, makes for a smoother and faster workflow. SCIENCE! okay, maybe still not extremely science-y, but we feel it will improve your user experience while using our Editor. Cheers!
Also, entirely new to the Inspector Panel changes, comes our introduction of the Market and Content Library! Simply, click on the Library icon at the very top of the Toolbar. Here in the Market, you'll find an ample source of professionally designed scene templates, characters, objects, shapes and audio samples. Some Market items will be restricted, based on your account's Subscription Plan, but will still have many valuable free assets to increase the wow-factor of your projects!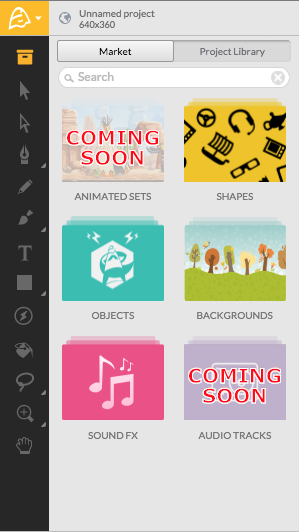 Like the project library of our older versions, you have access to your own scene assets in this new Inspector Panel. However, unlike the old project library, you can now save, tag, catalog and rummage through all of your own project assets, making it easier to find saved library items!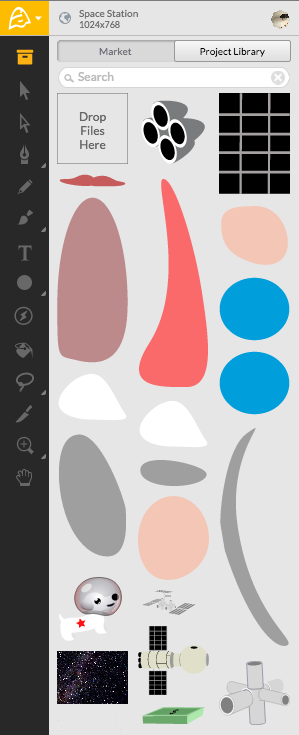 Is my project saved? In our previous versions of the Editor, there was no real indicator that your project was saving properly or not. Surprise! Now we have a cute little Online Indicator that shows you if your project is continually saving. The green indicator, meaning you're Online, lets you know your project is saving properly, up to the last action. The red Offline indicator means that any further actions will not be saved to our server, providing a better alert so you can download your project manually.

And would you look at that! Just left of the Online Indicator are our new Undo/Redo buttons! How's that for science?...no?...oh well. It's all cool and all for you!
Enjoy your new animation loot!
Sincerely, -Your Animatron Guru