If you use any of social platform like Facebook, Twitter or Google+, you probably already customized your profile once or twice.
We too, provide you with an opportunity to make your profile page standout! Here at Animatron.com we believe that an animated profile page is an attractive and fun place to have yet another opportunity to show off your creativity and let people who have never met you in person, form a strong, snap impression about you and your work. Let's see how we can make your profile look more engaging:

Clicking on the top-right landscape icon, opens the dialog box. For those who want to have a cool Profile, but are still learning how to create amazing animations, we provide about 30 standard, yet cool animations to choose from:

For those who don't want to go with our standard animations, you are given the option to use one of your own projects.

Now, it is time to add more info about yourself. Click on the little arrow next to your account name and select the Settings option, in the pop up menu.
On your profile page, you can upload an avatar picture, change your account name, your username, and even insert links to your FB and Twitter accounts. In the Bio section you can provide additional facts about Yourself, your Studio or Agency and any contact information or website links, as well.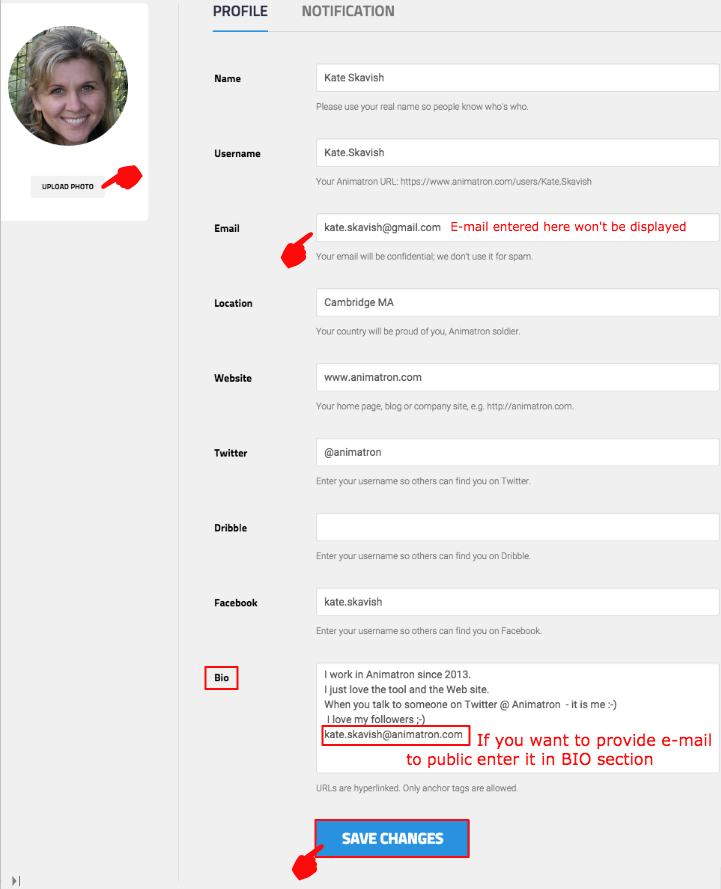 If you plan to insert your own animation into your profile area, you might want to check the canvas size of your project, first. Just keep in mind that the animation will be aligned to the right edge of the white box and will automatically resize to fit the profile header's height.
Here is a snapshot of my profile page 🙂

You can always create a project with a still picture and upload it to your profile page - the only limit, is your imagination!
Have Fun Playing With Your Profile Page And Enjoy Working In Animatron! Good Luck!